Hôtel Lully
In choosing the capital of France as its home, the German Center for Art History (DFK Paris) positioned itself in a central location for art history, in a city whose incomparable collections, libraries, and museums stand out on the world stage and attract international specialists. Hôtel Lully, the building housing the DFK Paris, is located in the first arrondissement, near the French National Institute for Art History (INHA), the Louvre Museum, and the large central art history library on the premises of the National Library of France (BNF).
Built in the seventeenth century, the Hôtel Lully owes its construction to Jean-Baptiste Lully, an Italian-born French composer who became the court composer for Louis XIV. According to a local legend, Lully received 11,000 livres from Molière to help purchase the land and construct the building. The decorative splendor dating from the reign of the Sun King remains visible in the façade, embellished with Bacchanalian masks—a registered historic monument—a bas-relief depicting musical symbols, and the ceiling paintings in the drawing room.
In addition to the freely accessible library and its reading room, the now modern interiors feature a conference room in the basement, a meeting room with videoconferencing capabilities, a research studio for grant recipients, and offices for the DFK team and third-party funded research projects.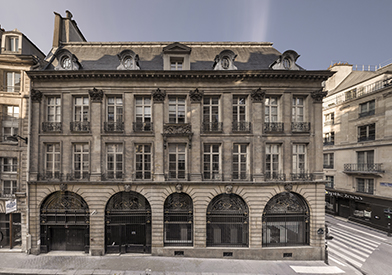 Photo: The eastern façade of Hôtel Lully, rue Sainte-Anne, Paris. © Markus Schilder / DFK Paris

Read more about the history of the Hôtel Lully in an article (in German and French) by Markus A. Castor and Laëtitia Pierre, "Das Hôtel Lully in Paris / L'Hôtel Lully à Paris", in: Jahresbericht / Rapport annuel 2014/15, DFK Paris, p. 16-21 (PDF).