Robert J Vogt, M.A.
Johns Hopkins University, Department of the History of Art (september - november 2021)
PhD project : Spheres for the Senses: Medieval World-Making across the Mediterranean
Vita
Robert Vogt studied comparative literature and art history in Berlin, Paris, Munich, and Baltimore, where he currently is a PhD Candidate in the Department of the History of Art at Johns Hopkins University. Robert's research centers on object studies and the arts of the medieval Mediterranean. His dissertation, "Spheres for the Senses: Medieval World-Making across the Mediterranean," is primarily supervised by Nino Zchomelidse. Prior to joining the DFK, Robert was a doctoral fellow of the Department Gerhard Wolf at the Kunsthistorisches Institut in Florenz–Max-Planck-Institut, a visiting doctoral fellow at the Universität Hamburg, and a visiting scholar at Columbia University in the City of New York. He also worked as a journalist for ARTE and as a research assistant for the ENB-International Junior Research Group "Premodern Objects. An Archaeology of Experience" as well as the Max Planck Research Group "Objects in the Contact Zone. The Cross-Cultural Life of Things."
Research focus
Spheres for the Senses: Medieval World-Making across the Mediterranean
The project aims at the compilation and reevaluation of a seldom discussed group of premodern objects. Made around Rhine and Meuse as well as in the Levant from at least the 12th century onward, they are traditionally considered to be Islamic censers or Christian handwarmers. Yet, neither their cultural nor functional distinction withstands closer scrutiny. All of the more than 60 extant objects share a set of formal characteristics. They were made from copper alloys. They are spherical and consist of two pierced hemispheres that carry conceptually related images of the heavens, earthly nature, order, and history. What is more, each of the spheres held a gimbal system, which allowed for the continually horizontal suspension of a small receptacle that contained a heat source.
These objects were popular around the Mediterranean, were used by the educated and powerful, by nobles, clerics, and scholars alike. They were described in inventories and trade records as well as in poetry and visual art. And as the objects, written sources, and various contexts of use suggest, these spheres did not only serve narrowly functional but also a deeply sensual and symbolic purposes. In a series of case studies, which cut across traditional subdisciplinary boundaries, the project therefore explores the objects in relation to the contemporary reconceptualization of cosmos and creation, thereby repositioning the spheres as deeply sensual world-making devices.
Contact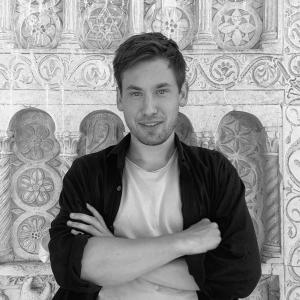 Robert J Vogt , M.A.