Passagen No. 23
L'évidence photographique
La conception positiviste de la photographie en question
German
French
Depuis ses débuts, la photographie a été l'objet de deux discours rivaux. D'un côté, il y avait une conception positiviste de la photographie qui s'est élaborée dans le contexte du triomphe de la science dans la seconde moitié du XIXe siècle, et qui reconnaissait à l'image photographique une évidence tenant au fait qu'elle était supposée être une empreinte, une trace de la nature elle-même. Contre l'évidence de l'image comme enregistrement mécanique d'un événement naturel ou historique s'est développé, de l'autre côté, un discours artistique et esthétique qui reflétait la vérité subjective et assez souvent trompeuse de l'image photographique et qui culminera dans la fameuse sentence de Rodin : « C'est l'artiste qui est véridique et c'est la photographie qui est menteuse. » Les contributions du présent volume analysent le caractère construit du concept d'évidence photographique à l'exemple d'œuvres et de faits concrets tirés pour la plupart de l'histoire de la photographie allemande et française de 1839 à nos jours. De la compétition entre la peinture, la gravure et la photographie dans le domaine des premiers reportages, à l'emploi de la photographie comme instrument d'examen dans la psychiatrie du XIXe siècle, des « photo-épigrammes » de Bertolt Brecht aux réflexions poétiques sur la fonction mnémonique de l'image dans les « Photos/Textes » de Jochen Gerz, de la subversion de l'évidence photographique opérée par les surréalistes aux investigations de l'essence de la photographie dans l'art conceptuel des années 1970 en Allemagne et en France.
Comptes-rendus :
Silke Förschler, dans KUNSTFORM 12/10, 2011, URL : http://www.arthistoricum.net/kunstform/rezension/ausgabe/2011/10/17100/ ; voir aussi : sehepunkte 11/10, 2011, URL : http://www.sehepunkte.de/2011/10/17100.html.     
Anne Immelé, dans Questions de communication 18, 2010 [1.12.2012], URL : http://questionsdecommunication.revues.org/294.
Tristan Trémeau, « La submersion d'images : aux sources des mutations de la culture visuelle des artistes = Submerging images: getting to the source of the changes in artists' visual culture », dans Critique d'art 35, 2010, p. 25–28.
Jean-Loup Korzilius, dans Frankreich-Forum 7, 2006/2007. 
Paris
2009
ISBN 978-2-7351-1223-4
48,00 €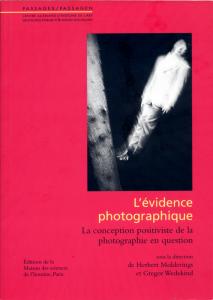 Link to the library catalog